This article is about the
real world.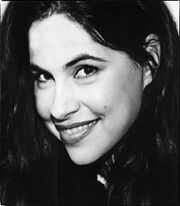 Saffron Henderson (born September 25, 1967) is a Canadian voice actress and singer.
She played the voice of Goku in the BLT Productions dub of Dragon Ball from episodes 1 to 13. She also played the voice of Gohan in the Ocean Group dubs of Dragon Ball Z from episodes 1 to 53 (1 to 67 uncut), and then 108 to 149 (123 to 164 uncut). She took maternity leave in 2000 and was replaced by Jillian Michaels.
She is also known for her roles of Sota Higurashi in the InuYasha franchise and Sherry Bellmont in Zatch Bell.
Gallery