This article is about the
real world.
Ryō Horikawa (堀川 りょう, Horikawa Ryō; born on February 1, 1958, in Osaka, Japan), born Makoto Horikawa (堀川 亮, Horikawa Makoto), is a veteran voice actor. His former stage name is also Ryō Horikawa, which uses his given name in kanji, Makoto, pronounced as Ryō.
Biography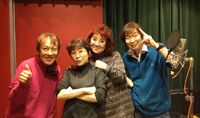 Horikawa started out as a child actor in elementary school. He made his debut in voice acting as the protagonist of the 1984 anime Yume Senshi Wingman. From there, he became famous for his anime character roles as Andromeda Shun (Saint Seiya), Heiji Hattori (Harley Hartwell), Detective Conan (Case Closed), and Reinhard von Lohengramm (Legend of the Galactic Heroes). He is also well known for his game role as Captain Falcon (Super Smash Bros. series).
He voices Vegeta, Gogeta, Vegito, Vegeta Jr. and Charmy Yamada in the Dragon Ball series.
He is married to fellow voice actress Hitomi Oikawa, whose birth surname is also Horikawa (堀川). Ryō Horikawa and Tōru Furuya (voice of Yamcha) are good friends, and they sometimes go to restaurants together.[1] Ryō Horikawa was as a Guest of Honor at the California-based Anime Expo convention in Los Angeles from June 29 to July 2, 2012, and he also attended Anime Weekend Atlanta from September 28 to September 30, 2012. Ryō Horikawa was also a Guest of Honor at Anime North, taking place at the Toronto Congress Center from May 24 to May 26, 2013.
References
Community content is available under
CC-BY-SA
unless otherwise noted.