This article is about the
real world.
Reizō Nomoto (野本礼三; September 17, 1930 – July 7, 2006) was a Japanese voice actor from Tokyo, Japan. He died on July 7, 2006 from unknown causes.
Biography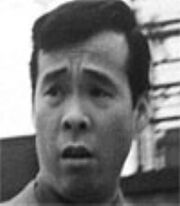 His birth name was Reijiro Nomoto (野本礼次郎).
He voiced Old Kai in Dragon Ball Z and Dragon Ball GT.
On July 7, 2006, Nomoto vomited blood at home and died at a hospital that he was transported to. The cause of his death is unknown. He was age of 75.