This article is about the
real world.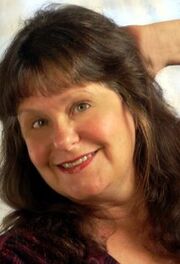 Rebecca Lynn Forstadt (born December 16, 1953, in Denver, Colorado) is an American actress, voice actress, and writer. She best known for playing young female roles in various animated series.
Biography
After studying theater at Orange Coast College, in Costa Mesa, California, Forstadt began her acting career by working at Knott's Berry Farm's Bird Cage Theater, performing melodramas, often as the damsel in distress character. Later, she went to Hollywood where she worked as a wardrobe mistress on such television shows as The White Shadow and Hill Street Blues, as well as for the film S.O.B.. She also spent several years doing live theater in the Los Angeles area. Most notably, she won some recognition for her portrayal of the character Josette in the world premiere of Eugène Ionesco's Tales for People Under 3 Years of Age at the Stages Theatre Center in 1982.
Her voice acting breakthrough came when she landed the leading role of Lynn Minmei in the English version of Robotech, the popular anime series of the 1980s (credited as Reba West). Since then, she has voiced hundreds of other anime characters and has branched into non-anime cartoons, live-action shows (such as Masked Rider and Power Rangers: Time Force), commercials and radio work, and has performed background voices for movies such as Antz, Dr. Dolittle, and The Santa Clause. Her contributions to the Dragon Ball franchise are voicing Penny in the Harmony Gold Dub of the movie Dragon Ball: Curse of the Blood Rubies and Chiaotzu in the Harmony Gold Dub of the movie Dragon Ball: Mystical Adventure. Some of her other roles include Mihoshi Kuramitsu in the Tenchi franchise, Kika in the Mobile Suit Gundam franchise, Sugar in A Little Snow Fairy Sugar, Kaede Misume in Please Teacher!, Mei Narusegawa in Love Hina, Nunnally in Code Geass: Lelouch of the Rebellion, Pai Ayanokoji in 3x3 Eyes, Tima in Metropolis, Tachikoma in the Ghost in the Shell franchise, Kori Kamiya in Samurai X, Primera in Magic Knight Rayearth 2, Suiseiseki in Rozen Maiden, and Rika Furude in When They Cry. She has also written the dub scripts of some episodes of Digimon: Digital Monsters.
Rebecca Forstadt starred in several low-budget movies such as Mugsy's Girls, with Ruth Gordon and Laura Branigan, and Round Numbers with Kate Mulgrew and Samantha Eggar. She also appeared as a television actress in Hill Street Blues, St. Elsewhere, and L.A. Law.
Community content is available under
CC-BY-SA
unless otherwise noted.