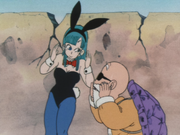 Puff-Puff (ぱふぱふ, Pafu Pafu) is a Japanese term for the placing of a person's face between a woman's breasts, often for sexual pleasure.
The term "Puff-Puff" comes from the Japanese onomatopoeia for a woman rubbing her breasts in someone's face; the term can also be used for a woman juggling her own breasts.[1] The term was originally coined by manga artist Akira Toriyama and featured in Chapter 5 of his series Dragon Ball, published in Weekly Shōnen Jump on January 15, 1985.[2][3] Puff-Puff is one of the special acts available in the Dragon Quest series of video games, for which Toriyama is the character designer.[4]
References to the act were removed from the American television broadcast of the Dragon Ball anime adaptation.[2] One reference of the act was also removed from the American release of Dragon Quest game.[5]
Video Game References
In Dragon Ball: Origins, the infamous scene appears as a cutscene though only shows Master Roshi and Oolong (as Bulma) performing the Puff-Puff! gesture with heart effects and comical noises. The scene ends with the real Bulma attacking Oolong for "taking things too far" though what he actually does occurs off-screen. The scene itself is left uncensored in the English localization as though the exact nature of Puff-Puff and what the gesture refers to is not elaborated upon.
In Dragon Ball Z: Dokkan Battle, there is a special summon screen that randomly occurs shortly after the Meteor is destroyed. This screen shows Oolong as Bulma (Bunny) and Master Roshi performing the Puff-Puff gesture along with the text "Puff-Puff!". Like Origins, the nature of what the gesture refers to is not elaborated upon and appears in both the Japanese and global versions.
References