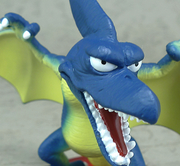 There are currently a total of 2 Pterodactyl collectibles that have been released by numerous companies to date. A gallery and the attached information appends to the official releases and genuine specifics in regards to the additional merchandise pertaining to each release.
Bandai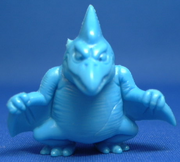 Dorakeshi Keshi-Gomu DB Part 1
Release date: 1980's
In the late 80's, a series of miniature quarter-priced rubber machine toys was released, much like the Ultimate Muscle series and coming in randomized colors. They are known as Dorakeshi Keshi-Gomu and are rather hard to come by. All characters in this set came in a random color and all of them were very tiny and immobile. The Pterodactyl appears once in this miniature set, although the same mold appears in numerous colors, such as green, tan, red, blue, or yellow. The mini rubber figurine comes with both arms spread out and kept waist-high as he crouches with a feral posture, preparing to go airborne.
Banpresto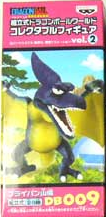 DWC Dragon Ball Collectible series volume 2
Release date: 2009
The Banpresto DWC series includes the Pterodactyl as collectible number DB009 in the miniature series and was released in April, 2009. The figure comes with both wings raised up, his digits curved and his forearms, Pteroids, and upper arms visible as he bends his neck with a fierce motion, his snarling mouth gaping wide. These figurines come boxed and in their own authentic case with the character image in front, as do all the other figurines in this set. Others included in this same Volume 2 set are Ox-King, Oolong as a bull, Chi-Chi, Master Roshi, Goku, Yamcha, and Puar.
Gallery
Community content is available under
CC-BY-SA
unless otherwise noted.