"Prologue to Battle! The Return of Goku!" (闘いの幕開け! 帰ってきたぞ孫悟空, Tatakai no Makuake! Kaette Kita zo Son Gokū, lit. "The Curtain Opens on the Battle! Son Goku Returns") is the first episode of Dragon Ball Z Kai and the first episode of its version of the Raditz Saga. This episode first aired in Japan on April 5, 2009. Its original American airdate was May 24, 2010. This is the first episode in the Dragon Ball anime aired for the first time in twelve years since the final episode of Dragon Ball GT in 1997.
Summary
The episode begins with a flashback of the Genocide of the Saiyans and the destruction of Planet Vegeta at the hands of Frieza, and the upbringing of Goku on Earth, as depicted in the original Dragon Ball series. Five years have passed since Goku's victory over Piccolo at the World Martial Arts Tournament, and he has since married Chi-Chi. with whom he had a son named Gohan named after Goku's grandpa, Grandpa Gohan.
Goku and Gohan are heading towards a reunion with Goku's friends at the Kame House. Elsewhere, a space pod crashes on Earth. A man with a Battle Armor emerges from the vessel and flies off to scout out a powerful lifeform. He locates it with the help of a scouter apparatus located on his eye. Piccolo is nearly killed by the stranger, but this is averted when the man leaves to scout out a more powerful lifeform. The other strong lifeform is Goku, who, at Master Roshi's house, introduces his son to Roshi, Krillin, and Bulma. The stranger arrives and speaks to Goku in a familiar manner.
Differences from Dragon Ball Z
Most of the filler scenes of Gohan were removed.
The point where this episode ends is the half-way point of "Reunions".
Animation Edits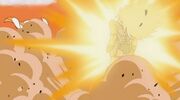 Bardock's Final Spirit Cannon has been remade.
The destruction of Planet Vegeta has been entirely re-animated to look more detailed.
During the flashback, Piccolo's blood has been changed from red to purple.
Trivia
Gallery
References