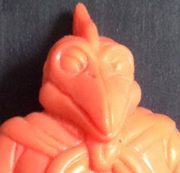 There is currently a total of 1 Piano collectible that has been released to date. A gallery and the attached information appends to the official release and genuine specifics in regards to the additional merchandise pertaining to each release.
Bandai

Dorakeshi Keshi-Gomu Part 3
Release date: 1990
In the 90's, a series of miniature quarter-priced rubber machine toys was released, much like the Ultimate Muscle series and coming in randomized colors. They are known as Dorakeshi Keshi-Gomu and are rather hard to come by. All characters in this set came in a random color and all of them were very tiny and immobile. Piano appears once in this miniature series. The mini rubber figurine in the Part 3 set comes with both arms to his sides. Characters included in the Part 3 Keshi set are Zarbon, Dodoria, Cui, Frieza in his first form, Goku with Gregory, a Namekian warrior, Cyborg Tao, Master Shen, Piano, Tambourine, Sūi, Bulma, Gohan, Muuri, and Great Ape Vegeta for a total of 15 pieces.
Gallery