This article is about the
real world.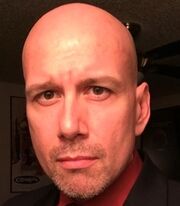 Phil Parsons is an American voice actor who works for Funimation.
Biography
He voiced Captain Yellow in Dragon Ball and Nappa, Shorty and Rock in Dragon Ball Z, Dragon Ball Z Kai, and video games.
Some of his other roles include Kizaki and Kajima in Baki the Grappler, General Hakuro in Fullmetal Alchemist, Shigeru Aoba in the Evangelion films, and Daisuke Godo in Phantom: Requiem for the Phantom.