This article is about the
real world.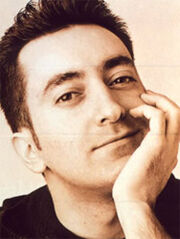 Peter Kelamis (born in 1967, in Sydney) is an Australian actor, voice actor and comedian of Greek origin.
Biography
In 1985, Kelamis enrolled in the University of British Columbia. As of July 3, 2004, Kelamis is married to his 2nd wife, Vancouver-born Canadian actress Alannah Stewartt.
He was the second English voice for Goku in the Ocean dub of Dragon Ball Z, replacing Ian James Corlett. He voiced the character in episodes 38-53 (50-67 in uncut episode numbering) and in the VHS/DVD releases of the movies Dead Zone, The World's Strongest and The Tree of Might. He later voiced Goku in episodes 108-159 (123-174 uncut) of AB Groupe's international dub of Dragon Ball Z before quitting so he could, reportedly, focus on his comedy career. He also voiced Master Roshi in episode 50 (63 uncut) of the U.S.-aired Ocean dub.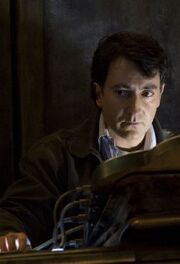 Some of his other roles as a voice actor are Dr. Stinger in Super Duper Sumos, Rolf in Ed, Edd n Eddy, Whiplash in Iron Man: Armored Adventures. He also voiced Reaper in the video game Devil Kings, and Byrne in the CGI animation Dreamkix. Some of his appearances on TV are in Eureka, The Outer Limits, Corner Gas, Sliders, Stargate Universe, The Sentinel, NCIS and The X-Files. Some of his film appearances are in Happy Gilmore, Castle Ghosts of the British Isles (the first documentary he appeared in), Fear of Flying, I'll Be Home for Christmas, Best in Show, The Sport Pages: The Heidi Bowl, and Everything's Gone Green. He also had a recurring role in Beggars and Choosers.
In 2007, he won the award for Best Screenwriting in a Music, Comedy, or Variety Program or Series.
Community content is available under
CC-BY-SA
unless otherwise noted.