"This article is currently a work-in-progress. Please be patient as I gather all information for future completion. In the meantime, check out other collectible articles currently completed."
— PrinceZarbon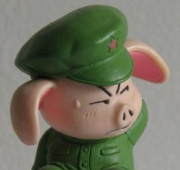 There are currently a total of 30+ Oolong (ウーロン) collectibles that have been released by numerous companies to date. A gallery and the attached information appends to the official releases and genuine specifics in regards to the additional merchandise pertaining to each release.
Bandai
Banpresto
Plex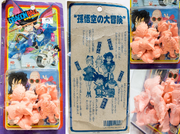 Dorakeshi Keshi-Gomu Dragon Ball Z Pack
Release date: 1990's
This unique Keshi pack collects a few of the first aforementioned Keshi pieces from the Dragon Ball series in one package. Included in this set are Ox-King, Mai, Monster Carrot, Oolong, and 2 variants of Goku. These are the same pieces in base white color from the Bandai Keshi Collection 1 set. The package is in a bubble format and features a unique image as well as the Plex logo and additional details on the back.
Gallery