Oishii Shima no Ū-sama

Delicious Island's Mr. Uおいしい島のウーさまOishī Shima no Ū-sama

Genre
Adventure, Comedy, Fantasy

Manga Series: Oishii Shima no Ū-sama

Authored by
Publisher

Rural Society Project

Serialized in

2030 Magazine Saishū Senryaku Biosphere

Original run

2008 – 2009

No. of volumes

1
Oishii Shima no Ū-sama (おいしい島のウーさま) is a two part manga written by Akira Toriyama. The first part is titled "Ū-sama from the drinkable island" and the second part is "Why the inhabitants of planet Tech-Tech want Guruguru island". This 24-page manga was made for a brochure in 2030 Magazine Saishū Senryaku Biosphere, to introduce children to environmentalist issues. It is also notable for being the first and only work in which Takashi Matsuyama acted as Toriyama's assistant since the end of Dragon Ball in 1995.
Story
The story is set on an island where residents live harmonious lives in a rich natural environment. One day, two men from a modern city wander onto the island and eventually become fascinated by the back-to-nature lifestyle. In the end, the men decide to protect the island from the evil hands of Tech-Tech aliens trying to exploit the island's natural resources.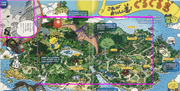 The main characters look similar to the Wombat and Biker from Nekomajin, and Ū-sama himself looks like a Neko Majin. The God of Guruguru island looks similar to Kami in Dr. Slump (and Master Roshi in Dragon Ball). A sea monster similar to Nessie in Dr. Slump and the monster near Beerus' temple in Dragon Ball Z: Battle of Gods also appears in this manga.
The booklet also lists questions on future environmental issues for children to consider from the viewpoint of their own cities and towns.
Release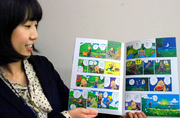 The project was conceived by Anjo's Rural Society Project, a nonprofit organization that organizes extracurricular activities, lectures and other sessions at elementary schools, kindergartens and elsewhere on the importance of agriculture and nature. The organization asked Toriyama to provide illustrations for a pamphlet to make environmental issues easy to understand for young children; Toriyama thought the project was a great idea and decided instead to expand it to an original story. Issues were distributed by the Anjo city government at environmental lecturers and other events.
Gallery
External links
Community content is available under
CC-BY-SA
unless otherwise noted.