Oil (オイル, Oiru) is part of the Heeter family.
Appearance
Oil is easily the tallest (at least before Gas' growth) and fattest of the Heeters family, with full blue lips, the lacking of eyebrows, cyan dark circles under his eyes, a short dark purple hair, pointy ears and a turquoise skin. He wears a wide red jacket with golden lines, two red wristbands with golden lines, a mind restraint similar to a necklace with bones, wide white pant with a blue sash over it, two blue boots with a white sole and a gold buckle on each and the Heeters' symbol on his waist.
40 years ago he looked slightly younger with hair cut mark on his head and was quite shorter.
Personality
Despite being a brute, he appears to have his limits, as seen when he expressed concern for Gas after Elec decided to unlock his power. Oil seems to be very greedy as he loves money and other kinds of riches. He also likes scamming people and manipulating others to get what he and his family wants. Like Macki, Oil disapproves of Elec's methods and hates his verbal abuse and lack of empathy towards them; especially Gas.
Biography
Background
Decades ago, after the Saiyans launched their assault on Planet Cereal and wiped out all of the Cerealians save for Granolah, Oil and the rest of the Heeters arrived on the planet. The Heeters discussed their plan to scam the Sugarians and usurp Frieza one day and later on sold the planet to them for a hefty figure.
Dragon Ball Super
Granolah the Survivor Saga
Main article: Granolah the Survivor Saga When Granolah arrives on the Heeter's Base bringing along Seven-Three as bounty, Oil is present along with the rest of the Heeters. Oil scans the artificial lifeform confirming him as OG73-i and Granolah is given his payment. Oil then takes the container away to begin analysis on Seven-Three. The information they receive leads them to learn all about Zuno, the Galactic Bandit Brigade and the Dragon Balls all of which amaze them. At Elec's command, he writes down the coordinates to Zuno's palace.
Two days later, Granolah returns to the Heeter's Base, claiming to now be the most powerful being in the universe thanks to a wish that had been granted on Cereal by the Dragon Toronbo and demands Frieza's location. Not having the time to deal with Granolah's demands, Elec orders Oil to throw Granolah out but he is effortlessly overpowered with a simple tap to the body. Getting to his feet and knowing what to expect now, Oil attacks Granolah more seriously but he is unable to land a single blow before falling through the floor thanks to Granolah's trickery. Oil re-emerges holding and then throwing the collapsed flooring at Granolah though it is destroyed via Hakai and the fighting ends shortly thereafter. Oil and his siblings learn Granolah's improvement stems from using the Cerealian Dragon Balls, as he calls the situation cheating. He is surprised when Granolah reveals his life-reducing condition and that he only has 3 years left on him, taken back by the depths of his desire for revenge. Later during meal time, Elec discusses his intention to have Granolah battle against the two Saiyans Goku and Vegeta who they witnessed battle against Moro.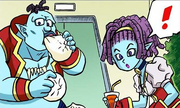 Sometime afterwards, Oil and Macki head to Zuno's Planet in order to ask Zuno for the location of the Saiyans amongst other things. After receiving their answers, the two head to Goku's House on Earth where they ask Chi-Chi if they can summon Goku. Along with Chi-Chi they next head to Capsule Corporation where Bulma contacts Whis and relays the situation. They sneak off and find the Dragon Radar, almost being caught by Chi-Chi in the process and offer payment for the Saiyans help in Sky Gold. Macki also tells Oil that Earth's Dragon Balls are stone because they were used but he notes that Cerealian Dragon Balls are not.
Thirty minutes later, Goku and Vegeta arrive back on Earth where they board the Heeter's Spaceship and begin their eighteen day journey to Cereal, unaware that they are being tricked by the Heeters. When they finally arrive at their destination, Goku and Vegeta quickly head off in search of Granolah with Oil following after them to spy on their battle in order to relay information back to Macki.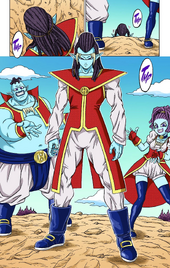 When Granolah and the Saiyans stop fighting due to Monaito revealing the Saiyan Bardock was responsible for saving Granolah and his mother Muezli who was unfortunately murdered by Elec which Monaito withheld as working with the Heeters was the only way he and Granolah could survive. Oil informs Macki who is with Gas and Elec while they are collecting the Cereal Dragon Balls. Elec sends Gas and Macki to join Oil to stall for time.
However by the time they get there, Elec manages to summon the dragon and wishes for Gas to become the strongest in the universe. In addition to growing stronger, Gas also increases in height making him taller than Oil. However, Oil and Macki are pleased by Gas' newfound power and take the opportunity to present Gas to their adversaries as the current strongest fighter in the universe. The Heeters confirmed their treachery to Granolah and watch Gas overwhelm him. When Goku intervened, Gas bound him and recognized him as the son of Bardock. Oil confirms this to his brother, as he heard Vegeta reveal that Bardock is Goku's biological father.
During the battle, Vegeta becomes separated in order to give Granolah a Senzu Bean and Oil and Macki threaten Monaito, demanding to know where the Saiyan has gone. After Granolah recovers he returns to the battlefield where he uses a Kiai to send the two plummeting into a cliff. They soon recover though and continue to watch as Granolah battles Gas again. Granolah is eventually defeated and Goku is next up, when Goku and Gas take their battle off planet, Elec orders his siblings to finish off the injured but before they are able to Goku makes his return and forces the Heeters to make a retreat knowing they are no match for the Saiyan. On his brother's order, Oil is sent to recon on the enemy until Gas returns to Cereal after he was duped by Goku.
Upon his return, the Heeters watch as Gas battles the Saiyans and then later Granolah. As they watch their sibling begin to struggle, Oil and Macki rush to aid him only for the two to be put to sleep by Monaito's Hypnosis. When they wake up, Granolah tells them to take the now defeated Gas away and to never return to the planet Cereal again.
Power
Manga
Elec and Oil believed that Oil would be capable of defeating Granolah, however due to having become the greatest warrior in the universe Granolah easily defeated Oil. He was also indicated to be weaker than Gas.
Techniques and Special Abilities
Forms and transformations
Instincts Unleashed
Main article: Heeter's transformation While not displayed, by releasing the restraints on his mind, Oil's true power is unleashed. It causes his muscle mass to grow tremendously, his eyes to go blank, his incisors to become fangs, and horns hanging downward from his temples. In this state, he becomes a rampaging brute who cannot discern friend from foe.
While this form is powerful, Elec speculates that it is still no match for Goku or Vegeta in Super Saiyan Blue, despite their weakened state.
Equipment
Battles
Dragon Ball Super

Manga
Trivia
Oil's name comes from oil.
Gallery
References