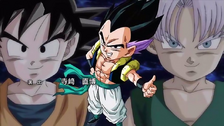 Oh Yeah!!! is the fifth ending theme of Dragon Ball Kai, succeeding to "Junjō".
Overview
The theme is performed by the band Czecho No Republic.
Lyrics
Hadaka no mama de ii
Kodomo-mitai yume ga mitai
Oto ni awashite
Utau kara kimi mo dou?

Kanashimu yori waratte'tai yo
Korogatteiku fuantei na michi o
Tatakau yori tanoshindemiyou
Tadayo tte'ru fuantei na hibi o

YEAH!!!!!!!

Kibou no nami ni notte
Hora mae o muite
Yattekanakucha

Oh Oh Oh
Oh Oh Oh
Yeah!!!!!!!

Why don't we just stay naked?
Seeking dreams just like children
I'm gonna sing along
So why don't you try?

I'd rather smile than be sad
Let the bumpy roads just roll by
I'd rather have fun than fight
Let the unsteady days just float by

YEAH!!!!!!!

Set off on the waves of hope
Always keep looking ahead
Just give it a try

Oh Oh Oh
Oh Oh Oh
Yeah!!!!!!!