This article is about the
real world.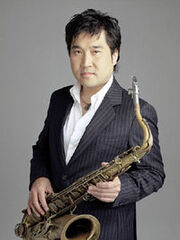 Norihito Sumitomo (住友 紀人; born on February 27, 1964, in Tokushima) is a Japanese musician, composer, and orchestrator. He is most well known for composing the scores for TV dramas and live-action movie.
Biography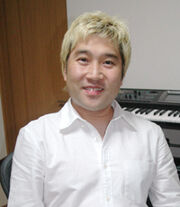 Norihito Sumitomo gratuated from the American Berklee College of Music. When he returned to Japan, he was greeted by AKAI EWI and considered a professional saxophonist player equal to Michael Brecker, Branford Marsalis, Kirk Whalum, as well as a wind synthesizer player. These spread his name around the world.
Published in the American Billboard, he participated as musician on the solo album of Italian pianist Gianni Nosenchik, and he was acclaimed with Ryuichi Sakamoto who participated in the same album. In 2000, he participated as saxophonist in the Asian tour of Bob James with Billy Kilson, Charles Blenzig, etc. He then worked on a number of TV movies and dramas music. In 2008, he was for the first time in charge of the music of an anime: Shikabane Hime: Aka.
He notably composed music and theme songs for the Shikabane Hime series in 2008, music for the 2010 video game Gran Turismo 5, the 2012 live-action movie Thermae Romae, animated movies Asura, Dragon Ball Z: Battle of Gods, the Majin Buu Saga of Dragon Ball Z Kai, Dragon Ball Z: Resurrection 'F', Dragon Ball Super, and Dragon Ball Super: Broly.
Gallery
External links