This article is about the
real world.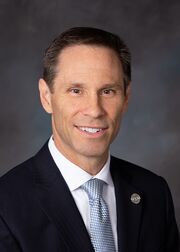 Nathan M. Johnson was the second music composer for Funimation's in-house dub of Dragon Ball Z.
Biography
During his childhood, Johnson was an avid fan of writing music, particularly for the piano. After graduating from the University of Texas with a degree in law, he would alternate time between music writing and practicing law.
Johnson eventually quit his job to focus on his music career, coincidentally crossing paths with Robert Cocanaugher, one of FUNimation's co-founders and executives and who was the landlord of a house Johnson was hoping to rent. Johnson casually mentioned to Cocanaugher that he was hoping to "throw a keyboard" inside and write music which "wouldn't disturb the neighbours".
Cocanaugher and Barry Watson called Johnson up and requested a meeting with Johnson to discuss writing a new score for the last few Dragon Ball Z movies and the Ultimate Uncut Special Edition redub for episodes 1-67.
Johnson has composed the score for Funimation's English versions of the following:
* For the above entries, Mark Menza is instead credited for composing the score in the remastered DVDs.
In 2018, Johnson ran for a seat in the Texas Senate in the 16th District as the Democratic candidate.  On November 6th, Johnson was elected.
Trivia
He was the last replacement composer used in the FUNimation dub or any other English version. This was due to Navarre Corporation's purchase of FUNimation in 2005, which led to the discontinuation of FUNimation's in-house music wing as a cost cutting measure.[1]
He is not to be confused with the musician of the same name who is the cousin of film director Rian Johnson.
References