This article is about the
real world.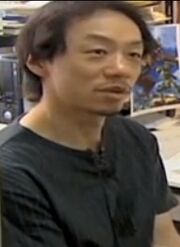 Naotoshi Shida (志田 直俊, Shida Naotoshi) is a Japanese animator who worked on Dragon Ball, Dragon Ball Z, Dragon Ball Z Kai, and Dragon Ball Super.
Biography
Naotoshi Shida has worked as a key animator under Masayuki Uchiyama for all the Dragon Ball episodes and for Dragon Ball Z until episode 141, after which he began working under other animation supervisors.
He made key animation for the movies Dragon Ball: Mystical Adventure, Dragon Ball Z: The World's Strongest, Dragon Ball Z: The Tree of Might, Dragon Ball Z: Broly - The Legendary Super Saiyan, Dragon Ball Z: Bojack Unbound, Dragon Ball Z: Broly - Second Coming, Dragon Ball Z: Bio-Broly, Dragon Ball Z: Fusion Reborn, Dragon Ball Z: Wrath of the Dragon, and Dragon Ball: The Path to Power.
Naotoshi Shida also worked on Air, Death Note, Digimon Tamers, Eiga Suite Precure: Torimodose! Kokoro ga Tsunagu Kiseki no Melody, Gaiking: Legend of Daikū-maryū, Halo Legends, Hatsumei Boy Kanipan, Heartcatch Precure!, Kamisama Kazoku, Mushi-Sh, One Piece, Ring ni Kakero 1: Sekai Taikai-hen and Ring ni Kakero 1: Shadow, Sailor Moon R Movie: Promise of the Rose, Saint Seiya Omega, Smile Precure!, Street Fighter Alpha, Suite Precure, Superflat Monogram, and Toriko.
Shida is widely acclaimed by anime fans worldwide for his animation style.
External links