This article is about the
real world.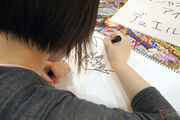 "Ooishi-san understands Dragon Ball really well, and she knows so much about it too. I've plumb forgot what in Dragon Ball, so she knows about 1,000 times more about it than me! But what I admire more is her considerable artistic strength and skill at manga composition."
— Akira Toriyama, 2009
Naho Ooishi (オオイシナホ, Ooishi Naho) is a Japanese manga illustrator who has created several Dragon Ball related works for Shueisha, starting in 2009.
Biography
"I have loved Dragon Ball since I was a child, so even now it feels like such a dream to get to draw it myself. Having Toriyama-sensei personally look at my story boards and offer me advice made me do my very best drawing this manga."
— Naho Ooishi, 2009
Initially a dōjinshi artist working under the name Gichi, Naho Ooishi was hired by Shueisha in 2009 and debuted her career as an official manga artist under her real name.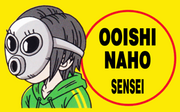 Naho Ooishi's first involvement with the Dragon Ball series was making the manga adaptation of the 2008 special OVA Dragon Ball: The Return of Son Goku and Friends!, which was released on March 21, 2009. In December 2010, the first chapter of her gag manga remake of Dragon Ball, Dragon Ball SD, started its serialization in Saikyō Jump.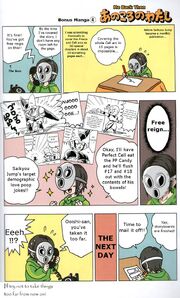 In summer 2011, Naho Ooishi wrote her first original storyline for the series: Dragon Ball: Episode of Bardock, a spin-off scenario based on the Japanese-only arcade video game Dragon Ball Heroes, in which Bardock turns Super Saiyan for the first time. She also started Oh New Super Gadget Lovers, a team of super elite gadget news report crew called the Onyu Tokusentai (a parody of the Ginyu Force), in V-Jump in 2013. She also made "Battle of Gods SD", a special Dragon Ball SD chapter based on the introduction of the movie Dragon Ball Z: Battle of Gods and published in Saikyō Jump on March 4, 2013.
She interviewed the Dragon Ball series creator Akira Toriyama in the March 2014 issue of Saikyō Jump (released on February 2014), with questions about Bardock's family, the Saiyan race, and Frieza's race.
Works
Gallery