This article is about the
real world.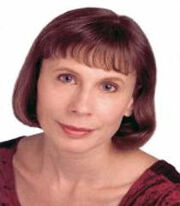 Monika Antonelli is a former voice actress who worked for Funimation.
Her notable roles were Puar and Chiaotzu in Dragon Ball, Dragon Ball Z, and Dragon Ball GT. Her other minor roles include Launch's good self in the movie Dragon Ball: Sleeping Princess in Devil's Castle, Chico, and Kid Chi-Chi in a single Dragon Ball Z episode. She reprised her roles in all of the movies and most of the original video games. Her full-time job is as a librarian formerly in Texas, and she now works in Mankato, Minnesota. Because of this, she did not reprise her roles in Dragon Ball Z Kai. Her replacement is Brina Palencia.