This article is about the
real world.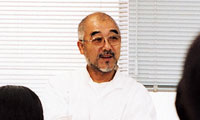 Mitsuo Shindō (進藤 満尾; born on April 2, 1944) is a Japanese animator and art director. He is the creator of Shindo Production, which is best known for the production of the anime adaptations of Dr. Slump, Dragon Ball and Chibi Maruko-chan.
Biography

Mitsuo Shindō joined Mushi Production in 1964, and he worked on the Astro Boy anime adaptation. After Mushi Production's bankruptcy, Mitsuo Shindō worked for Sunrise Company, which later became Toei Animation. He began working on Hana no Ko Lunlun and Candy Candy in 1976, for which was given the chief animator and character designer jobs for the first time in his career.
He founded Shindo Production in 1981. His company started working for Toei Animation on the TV adaptations of Akira Toriyama's Dr. Slump manga, Dr. Slump and Arale-chan, and its anime movie adaptations Dr. Slump: "Hoyoyo!" Space Adventure, Dr. Slump and Arale-chan: Hoyoyo! The Treasure of Nanaba Castle, and Dr. Slump and Arale-chan: N-cha! Love Comes From Penguin Village. Shindo Production hired Tadayoshi Yamamuro in 1984. Mitsuo Shindō's company later worked on the anime adaptation of Akira Toriyama's Dragon Ball manga; Dragon Ball and Dragon Ball Z. Between 1984 and 1987, he also worked on the anime adaptation of Fist of the North Star. Mitsuo Shindō is last credited as animation supervisor for Dragon Ball Z episode 160, in 1992, after which he worked only as a manager for his company. Tadayoshi Yamamuro became the main character designer for the Dragon Ball franchise in 1992, and he left Shindo Production to work excusively for Toei Animation in 1996.
He also worked on the anime adaptations of Detective Conan, Digimon Xros Wars, Doraemon, Dororo, Glass no Kamen, Hey! Bunbuu, Kimba the White Lion and Jungle Emperor Leo, Lupin III: Elusiveness of the Fog, One Piece, Ronin Warriors, Rurouni Kenshin, Saint Seiya, Toriko, and Yu-Gi-Oh!.
Gallery
External links
Community content is available under
CC-BY-SA
unless otherwise noted.