This article is about the
real world.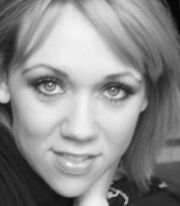 Megan Woodall is a Plano-based theatre actor hired by Funimation during the early 2000s.
She voiced Bulla in Dragon Ball Z.
Trivia
Megan's mother, Neicole, is the founder and executive director of Plano's Genesis Children's Theatre, with Megan (currently known by her married name of Megan Demsky) serving as artistic director.
Megan's only other voice role to date outside of Dragon Ball is Minh from Blue Gender (TV series only).