This article is about the
real world.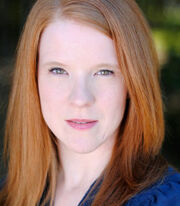 Maxey Whitehead (born June 15, 1981) is an American stage actress and voice actress who works for Funimation.
Biography
Whitehead has provided voices for a number of English language versions of Japanese anime films. She is generally cast as young boys or young girls. She voiced Dende in Dragon Ball Z Kai.
Some of her other roles include Antonio in Romeo x Juliet, Czeslaw Meyer in Baccano, Crona in Soul Eater, and Alphonse Elric in the Fullmetal Alchemist Brotherhood series, OVAs, film, and video games.