There are currently a total of 3 Master Shen (also known as Crane Hermit, Crane Master, and Tsurusen'nin) collectibles that have been released by numerous companies to date. A gallery and the attached information appends to the official releases and genuine specifics in regards to the additional merchandise pertaining to each release.
Bandai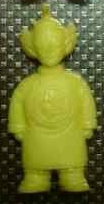 Dorakeshi Keshi-Gomu Part 3
Release date: 1990
In the 90's, a series of miniature quarter-priced rubber machine toys was released, much like the Ultimate Muscle series and coming in randomized colors. They are known as Dorakeshi Keshi-Gomu and are rather hard to come by. All characters in this set came in a random color and all of them were very tiny and immobile. Master Shen appears once in this miniature set, although the same mold appears in numerous colors, such as red or yellow. The mini rubber figurine comes with both arms beside him and both feet in a prepared stance. Characters included in the Part 3 Keshi set are Zarbon, Dodoria, Cui, Frieza in his first form, Goku with Gregory, a Namekian warrior, Cyborg Tao, Master Shen, Piano, Tambourine, Sūi, Bulma, Gohan, Muuri, and Great Ape Vegeta for a total of 15 pieces.
Banpresto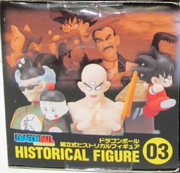 Historical Figure series Volume 3
Release date: 2007
Released in 2007, Banpresto's Historical Figure series was a great tribute to some of the characters in Dragon Ball as a bust format. In each volume of this 4-part set, a certain saga was emphasized through the featured characters. Shen is included in the volume 3 set amongst a few others, including Tien, Chiaotzu, Kid Goku, and the World Tournament Announcer. Each set connects to the other volumes to create an astonishing combination of characters as a complete diorama piece.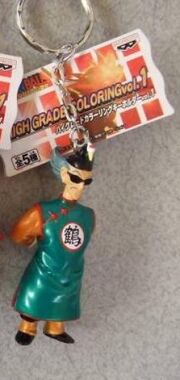 High Grade Coloring Volume 1 keychain series
Release date: Unknown
This spectacular Master Shen keychain was released by Banpresto as a part of its volume 1 set. As a High Grade Coloring figurine, the Crane Master is seen standing with both arms behind his back as he maintains a confident stature whilst maintaining a sinister smile as his facial expression. Other pieces included in this same High Grade Coloring volume 1 set are Monster Carrot, Grandpa Gohan, Kid Goku, and Kid Chi-Chi.
Gallery