This article is about the
real world.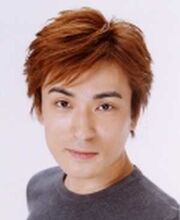 Masakazu Morita (森田 成一; born on October 21, 1972, in Tokyo) is a Japanese actor and voice actor. He currently works for Aoni Production.
Biography
Masakazu Morita likes fishing and his hobbies are calligraphy, karate and kendo. He is best known for voicing Ichigo Kurosaki, the main protagonist in the Bleach anime series. He is also the host of the radio show Bleach B-Station. Masakazu Morita won in the category "Best Rookie Actor" for his role as Ichigo Kurosaki at the first Seiyu Awards in March 2007.
He voiced Tarble in the OVA Dragon Ball: The Return of Son Goku and Friends! and Dragon Ball: Raging Blast 2, and Whis in Dragon Ball Z: Battle of Gods. He provided the "evil" voice for the custom made character in Dragon Ball Z: Ultimate Tenkaichi. Masakazu Morita also voiced Marco in One Piece, Tidus in Final Fantasy X, Barnaby Brooks Jr. in Tiger & Bunny, Keiji Maeda in Sengoku Basara, Auel Neider in Mobile Suit Gundam Seed, Pegasus Seiya in Saint Seiya Hades: Chapter Inferno, Troy Bolton in the Japanese versions of High School Musical and High School Musical 2, and Pod in Pocket Monsters.
He was hospitalized for anaphylactic shock in February 2013, but has since recovered and returned to work on February 12, 2013. While he did not detail what happened, he did say that he was in a dire condition "hovering between life and death." However, he assured his followers that he is fine now. It was the first time he was ever hospitalized.
External links