This article is about the
real world.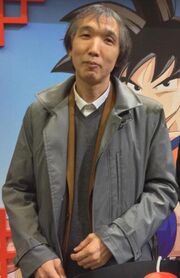 "I am extremely happy for Dragon Ball, a monumental animated work that is the pride of Japan the world over, to be revived with a completely original story by creator Akira Toriyama-sensei as Dragon Ball Z: Battle of Gods, the first movie in 17 years, and to become the first Japanese film to be shown in IMAX. By all means, I would like you to experience the full-throttle power battle-scene between the mighty Son Goku and Beerus, God of Destruction, which makes use of the latest visual effects, at an IMAX Digital theater, with an even greater power and sense of immediacy"
— Masahiro Hosoda, Battle of Gods official website, March 2013
Masahiro Hosoda (細田雅弘; born in 1961) is a Japanese director.
Biography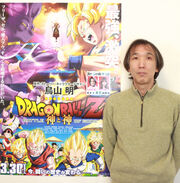 Masahiro Hosoda directed several episodes during the Cell Games Saga of the Dragon Ball Z TV series: episodes 173, 182, 188, and 193. He is currently attached to the latest Dragon Ball Z movie in production, Dragon Ball Z: Battle of Gods, which will be released on March 30, 2013, in Japan.
Outside of Dragon Ball Z, Masahiro Hosoda has notably worked on anime adatpations of Fist of the North Star, Gaiking: Legend of Daikū-maryū, Hell Girl, Kobato, Nangoku Shounen Papuwa-kun, Naruto Shippūden, Pokémon Zoroark: Master of Illusions, Sailor Moon Sailor Stars, Street Fighter Alpha, Toriko, X, Yu-Gi-Oh!, and Zatch Bell.
External links