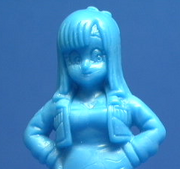 There is currently a total of 1 Maron collectible that has been released to date. A gallery and the attached information appends to the official release and genuine specifics in regards to the additional merchandise pertaining to each release.
Bandai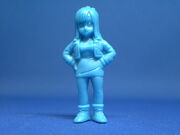 Part 13 Keshi Set
Release date: 1991
This miniature Part 13 Keshi set has included a few of the characters from the Garlic Jr. Saga, Trunks Saga, and the Cooler's Revenge movie. One of Bandai's Keshi series, it has included characters such as Spice, Vinegar, Mustard, Salt, Future Trunks, Super Saiyan Future Trunks, two variants of Gohan, Krillin, King Cold, Cyborg Frieza, Goku with Yardrat outfit, Super Saiyan Goku with Yardrat outfit, Frieza powered up, Cooler, Maron, Yamcha, and Vegeta. Maron is seen standing while maintaining both her hands waist high, one hand in her pocket and the other resting against her waist.
Gallery
Community content is available under
CC-BY-SA
unless otherwise noted.