This article is about the
real world.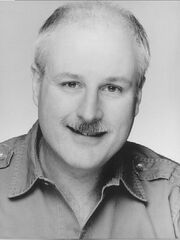 Mark Stoddard (born in 1965) is an American voice actor who works for Funimation.
Biography
Mark Stoddard provided voices for a number of English versions of Japanese anime series. He voiced Dr. Brief in Dragon Ball Z Kai and Dragon Ball Super in which he also voices Zarbuto.
Some of his other roles include Inspector Joseph Meguire in the Case Closed franchise, Strydum in the Baki the Grappler franchise, Manzo in Samurai 7, Yakushiji Tenzen in Basilisk and Shinobi: Heart Under Blade, Reiji Takayama in Witchbalde, Yagisawa in the Baldr Force Exe franchise, Mosquito in Soul Eater, and Genma Kannagi in Kaze no Stigma.