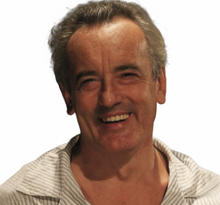 Mario Zucca (Turin, July 10, 1955) is an actor, comedian and voice actor Italian.
After the first experiences of amateur theater, studied acting and diction with Iginio Bonazzi and started alongside the comedian activities with the first texts and songs written for him by Luciano Zaffalon, which still works sporadically.
He became famous for having launched the catchphrase I love bastards Drive In in 1987. On that occasion the lyrics were written by two well-known authors, Boris Makaresko and Piero Ferraris.
It was a regular guest of Maurizio Costanzo Show 1992 to 1995, when he also joined Vittorio Gassman always within the frame of the Teatro Parioli in Rome.
Parallel to the theater, which saw him frequently work with the comedian Marina Thovez (and his wife), Pumpkin has played a considerable voice actor activities. He has in fact lent his voice from the rough timbre and deep characters to Zordon (Power Rangers) and Anastasio Farina, played by Paulo Goulart in the telenovela our Esperança 2.
Very active mainly in voiceovers for cartoons, in the series inspired by the character of Batman he voiced Bane in the 1992 series and an aged Bruce Wayne in Batman Beyond. He also voiced King Piccolo (the Great Demon Piccolo) and the God of the Earth in Dragon Ball.
Other characters which lent item Shredder (series Teenage Mutant Ninja Turtles 2003), Great Bailam in Who goes around comes around, Mr. Krabs on SpongeBob, Mr. Larrity in Code Monkeys, Fred Flintstone in The Flintstones, the supercomputer Giganet in Corrector Yui, Dinobots in Beast Wars, Mr. Freeze in the Batman, Galactus (series Silver Surfer 1998), Zeff, Kuroobi, Pickles, Blik Wapol, McKinley, Braham, Blackbeard, Magellan in One Piece, Magneto in X -Men.
References 
Community content is available under
CC-BY-SA
unless otherwise noted.