This article is about the
real world.
Marco Balzarotti
(Magenta, 2 March 1957) is an Italian actor, voice actor and speakers.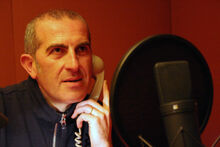 It is famous for having voiced the character of Batman in several animated series and video games, to Mamoru Chiba/ Tuxedo Kamen/ Prince Endymion into Sailor Moon and that Shiryū of Dragon them Knights of the Zodiac. Start your own business in 1982, after graduating from CTA (Center for Active Theater) in Milan.
He entered the world of television dubbing, he has lent his voice to several famous actors like Michael Douglas and in the genre of animated cartoons and Japanese anime.
References 
http://www.marcobalzarotti.it/
Community content is available under
CC-BY-SA
unless otherwise noted.