This article is about the list of Power levels. For the concept of power levels, see Power Level.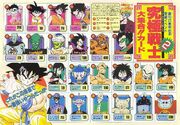 This is a list of known and official Power Levels in the Dragon Ball universe. All of the levels on this list are taken from the manga, anime, movies, movie pamphlets, Daizenshuu guides, video games and stated mathematical calculations.
After the Frieza Saga, the only power level stated by a scouter in the series is that of Future Trunks. In the 2000s, V-Jump revealed the official power levels of Cooler in his Final Form, Broly in his Legendary Super Saiyan form, and Gogeta in his Super Saiyan form and much later promotion for The Real 4-D revealed Frieza's in that story.
Video games that use power levels, like Dragon Ball Z Collectible Card Game, Dragon Ball Z: The Anime Adventure Game, Dragon Ball Z: Attack of the Saiyans, have their own scale and thus are listed separate from the main table
Power Levels
Pre-Dragon Ball
Dragon Ball
Dragon Ball Z
| | | | |
| --- | --- | --- | --- |
| Saga | Character | Power level | Source |
| Dead Zone | | | |
| | Garlic Jr. | 1,450 | Movie 6 Pamphlet |
| | Ginger | 350 | Movie 6 Pamphlet |
| | Sansho | 350 | Movie 6 Pamphlet |
| | Nicky | 350 | Movie 6 Pamphlet |
| Raditz Saga | | | |
| | Farmer | 5 | Vol. 17, #195 |
| | Goku (w/weights) | 334 | Vol. 17, #199 |
| | Goku | 416 | Vol. 17, #199 |
| | Goku (Kamehameha) | 924 | Vol. 17, #201 |
| | Piccolo (w/weights) | 322 | Vol. 17, #195 |
| | Piccolo | 408 | Vol. 17, #199 |
| | Piccolo (Special Beam Cannon #1) | 1,330 | Vol. 17, #201 |
| | Piccolo (Special Beam Cannon #2) | 1,480 | Episode 5 |
| | Gohan | 710 | Vol. 17, #199 |
| | Gohan (Enraged) | 1,307 | Vol. 17, #203 |
| | Gohan (Normal) | 1 | Vol. 17, #203 |
| | Raditz | 1,500 | Daizenshuu 7 |
| | Raditz | 1,600 | Movie 20 information card |
| | Scarface | 3,000 | Movie 6 Pamphlet |
| | Shorty | 3,000 | Movie 6 Pamphlet |
| Vegeta Saga | | | |
| (Training) | Bulma | 12 | Movie 6 Pamphlet |
| | Master Roshi | 139 | Vol. 18, #209 |
| | Turtle | .001 | Episode 8 |
| | Krillin | 206 | Vol. 18, #209 |
| | Tien Shinhan | 250 | Vol. 18, #209 |
| | Yamcha | 177 | Vol. 18, #209 |
| | Piccolo | 329 | Vol. 18, #209 |
| | Kami | 220 | Weekly Jump #31, 1991 |
| | Mr Popo | 1,030 | Weekly Jump #31, 1991 |
| | King Kai | 3,500 | Movie 6 Pamphlet |
| | Gregory | 1,100 | Movie 6 Pamphlet |
| | Bubbles | 1,000 | Movie 6 Pamphlet |
| | Princess Snake | 900 | Movie 6 Pamphlet |
| | King Yemma | 1,300 | Movie 6 Pamphlet |
| Vegeta Saga | | | |
| (Saiyan Invasion) | Goku (suppressed) | 5,000 | Vol. 19, #222 |
| | Goku | Over 8,000 | Vol. 19, #224 |
| | Goku (x2 Kaioken) | 16,002+ | Calculated |
| | Goku (x3 Kaioken) | 24,003+ | Calculated |
| | Goku (x4 Kaioken) | 32,004+ | Calculated |
| | Piccolo | 3,500 | Daizenshuu 7 |
| | Krillin | 1,770 | Daizenshuu 7 |
| | Tien Shinhan | 1,830 | Daizenshuu 7 |
| | Yamcha | 1,480 | Daizenshuu 7 |
| | Gohan | 981 | Vol. 18, #214 |
| | Gohan (Masenko) | 2,800 | Vol. 19, #223 |
| | Yajirobe | 970 | Daizenshuu 7 |
| | Chiaotzu | 610 | Daizenshuu 7 |
| | Saibamen | 1,200 | Vol. 18, #215 |
| | Nappa | 4,000 | Daizenshuu 7 |
| | Vegeta | 18,000 | Vol. 21, #249 |
| | Vegeta (Great Ape) | 180,000 (At full strength) | Calculated |
| The World's Strongest | | | |
| | Goku | 10,000 | Movie 6 Pamphlet |
| | Goku (x2 Kaioken) | 20,000 | Calculated |
| | Goku (x3 Kaioken) | 30,000 | Calculated |
| | Goku (x4 Kaioken) | 40,000 | Calculated |
| | Piccolo | 8,000 | Movie 6 Pamphlet |
| | Gohan | 6,000 | Movie 6 Pamphlet |
| | Krillin | 5,000 | Movie 6 Pamphlet |
| | Dr. Wheelo | 39,000 | Movie 6 Pamphlet |
| | Dr. Kochin | 8 | Movie 6 Pamphlet |
| | Kishime | 7,000 | Movie 6 Pamphlet |
| | Ebifurya | 7,500 | Movie 6 Pamphlet |
| | Misokatsun | 4,300 | Movie 6 Pamphlet |
| | Bio-Men | 1,000 | Movie 6 Pamphlet |
| The Tree of Might | | | |
| | Goku | 30,000 | Movie #6 |
| | Goku (x2 Kaioken) | 60,000 | Calculated |
| | Goku (x10 Kaioken) | 300,000 | Calculated |
| | Piccolo | 18,000 | Movie #6 |
| | Gohan | 10,000 | Movie #6 |
| | Gohan (Great Ape) | 100,000 | Calculated |
| | Turles | 19,000 | Movie 6 Pamphlet |
| | Turles | Over 300,000 | Daizenshuu 7 |
| | Cacao | 13,000 | Movie 6 Pamphlet |
| | Daiz | 8,400 | Movie 6 Pamphlet |
| | Rasin | 8,000 | Movie 6 Pamphlet |
| | Lakasei | 7,600 | Movie 6 Pamphlet |
| | Amond | 9,100 | Movie 6 Pamphlet |
| Namek Saga | | | |
| | Krillin (vs. Frieza's soldiers) | 1,500 | Vol. 21, #248 |
| | Gohan (vs. Frieza's soldiers) | 1,500 | Vol. 21, #248 |
| | Vegeta | 24,000 | Vol. 21, #249 |
| | Namekian Warriors (suppressed) | 1,000 | Vol. 18, #214 |
| | Namekian Warriors | 3,000 | Vol. 18, #214 |
| | Moori | 5,000 | Movie 6 Pamphlet |
| | Banan and Sui | Below 1,500 | Daizenshuu 7 |
| | Cui | 18,000 | Vol. 21, #249 |
| | Dodoria | 22,000 | Daizenshuu 7 |
| | Zarbon | 23,000 | Daizenshuu 7 |
| Captain Ginyu Saga | | | |
| | Captain Ginyu | 120,000 | Vol. 24, #285 |
| | Captain Ginyu (in Goku's body) | 23,000 | Vol. 24, #288 |
| | Gohan (vs. Guldo) | Over 10,000 | Vol. 23, #274 |
| | Gohan (vs. Recoome) | 14,000 | Daizenshuu 7 |
| | Gohan (Masenko) | Over 20,000 | Episode 65 |
| | Goku (suppressed) | 5,000 | Vol. 24, #279 |
| | Goku | 90,000 | Calculated |
| | Goku (x2 Kaioken) | 180,000 | Vol.24, #285 |
| | Krillin (vs. Guldo) | Over 10,000 | Vol. 23, #274 |
| | Krillin (vs. Recoome) | 13,000 | Daizenshuu 7 |
| | Nail | 42,000 | Vol. 24, #286 |
| | Vegeta | 30,000 | Vol. 23, #275 |
| | Vegeta (Post Recoome) | 250,000 | V-Jump |
| | Namekian Warriors | 10,000 | Episode 70 |
| Frieza Saga | | | |
| | Goku | 3,000,000 | Daizenshuu 7 |
| | Goku (x10 Kaioken) | 30,000,000 | Calculated |
| | Goku (x20 Kaioken) | 60,000,000 | Calculated |
| | Goku (Super Saiyan) | 150,000,000 | Daizenshuu 7 |
| | Krillin | 75,000 | V-Jump |
| | Gohan | 200,000 (and more when mad) | V-Jump |
| | Frieza (first form) | 530,000 | Vol. 24, #286 |
| | Frieza (second form) | Over 1,000,000 | Vol. 25, #296 |
| | Frieza (final form; 50%) | 60,000,000 | Daizenshuu 7 |
| | Frieza (final form; 100%) | 120,000,000 | Daizenshuu 7 |
| Trunks Saga | | | |
| | Future Trunks (suppressed) | 5 | Vol. 28, #331 |
| Cooler's Revenge | | | |
| | Cooler (fifth form) | 470,000,000 | V-Jump |
| | Salza | 170,000 | Weekly Shonen Jump |
| | Dore | 185,000 | Weekly Shonen Jump |
| | Neiz | 163,000 | Weekly Shonen Jump |
| Broly - The Legendary Super Saiyan | | | |
| | Broly (Legendary Super Saiyan) | 1,400,000,000 | V-Jump |
| The Real 4-D | | | |
| | Frieza (Final Form) | 5,300,000,000 | The Real 4-D advertisement |
| Babidi Saga | | | |
| | Yakon | 800 kili | Vol. 38, #451 |
| | Goku (Super Saiyan) | 3,000 kili | Vol. 38, #451 |
| | Dabura | Over 4,000 kili | Episode 223 |
| Fusion Reborn | | | |
| | Super Gogeta | 2,500,000,000 | V-Jump |
| Resurrection 'F' | | | |
| | Frieza | 1,300,000 (Estimated after training) | Movie #19 |
Dragon Ball Super
Other
Video Game Power Levels
Dragon Ball
Dragon Ball Z
| | | | |
| --- | --- | --- | --- |
| Saga | Character | Power level | Source |
| Vegeta Saga | | | |
| | Pumpkin | 400 | Kyōshū! Saiyan |
| | Scarface | 500 | Kyōshū! Saiyan |
| | Raditz | 1,200 | Goku Hishōden |
| | Raditz | 1,500 | Attack of the Saiyans |
| | Goz | 541 | Attack of the Saiyans |
| | Princess Snake (princess form) | 546 | Attack of the Saiyans |
| | Princess Snake (snake form) | 891 | Attack of the Saiyans |
| | Android 8 | 888 | Attack of the Saiyans |
| | General White | 800 | Attack of the Saiyans |
| | Gohan (Great Ape) | 10,000 | Kyōshū! Saiyan |
| | Saibamen | 3,000 | Goku Hishōden |
| | Nappa | 7,000 | Goku Hishōden |
| | Vegeta | 15,000 | Goku Hishōden |
| | Vegeta (Great Ape) | 70,000 | Kyōshū! Saiyan |
| Namek Saga | | | |
| | Napple | 5,800 | Gekishin Freeza |
| | Napple | 1,825 | Goku Gekitōden |
| | Appule | 6,000 | Gekishin Freeza |
| | Appule | 1,500-1,700 | Super Saiya Densetsu |
| | Orlen | 4,600-5,600 | Super Saiya Densetsu |
| | Cui | 18,000 | Super Saiya Densetsu |
| | Dodoria | 22,000 | Gekishin Freeza |
| | Zarbon | 23,000 | Gekishin Freeza |
| | Zarbon (Monster Form) | 30,000 | Super Saiya Densetsu |
| | Zarbon (Monster Form) | 34,000 | Goku Gekitōden |
| | Guldo | 19,000 | Gekishin Freeza |
| | Guldo | 13,500 | Super Saiya Densetsu |
| | Guldo | 11,850 | Goku Gekitōden |
| | Recoome | 71,000 | Gekishin Freeza |
| | Recoome | 65,000 | Super Saiya Densetsu |
| | Recoome | 52,000 | Goku Gekitōden |
| | Burter | 68,000 | Gekishin Freeza |
| | Burter | 62,500 | Super Saiya Densetsu |
| | Burter | 50,600 | Goku Gekitōden |
| | Jeice | 64,000 | Gekishin Freeza |
| | Jeice | 64,000 | Super Saiya Densetsu |
| | Jeice | 50,120 | Goku Gekitōden |
| | Captain Ginyu | 120,000 | Super Saiya Densetsu |
| Frieza Saga | | | |
| | Frieza (first form) | 530,000 | Super Saiya Densetsu |
| | Frieza (third form) | 1,550,000 | Super Saiya Densetsu |
| Yardrat Saga | | | |
| | Soba | 14,000,000 | Dragon Ball Z: Sagas |
| Garlic Jr. Saga | | | |
| | Spice | 1,000,000 | The Anime Adventure |
| | Vinegar | 800,000 | The Anime Adventure |
| | Mustard | 450,000 | The Anime Adventure |
| | Salt | 400,000 | The Anime Adventure |
| | Garlic Jr. | 1,500,000 | The Anime Adventure |
| The Return of Cooler | | | |
| | Meta-Cooler Corps. | 10,000,000,000 | Dragon Ball Xenoverse 2 |
| Broly - The Legendary Super Saiyan | | | |
| | Broly (Legendary Super Saiyan) | 1,400,000,000 | Scouter Battle Taikan Kamehameha |
| Cell Games Saga | | | |
| | Cell Jr. | 46,655,274 | Scouter Battle Taikan Kamehameha |
| | Cell (Perfect form) | 900,000,000 | Scouter Battle Taikan Kamehameha |
| Babidi Saga | | | |
| | Majin Buu | 1,000,000,000 | Scouter Battle Taikan Kamehameha |
| | Kid Buu | 1,150,000,000 | Scouter Battle Taikan Kamehameha |
Dragon Ball GT
| | | | |
| --- | --- | --- | --- |
| Saga | Character | Power level | Source |
| Black Star Dragon Ball Saga | | | |
| | Machine Mutants | 1,500-1,800 | Scouter Battle Taikan Kamehameha |
| | Super Sigma | 10,000,000 | Scouter Battle Taikan Kamehameha |
| | General Rilldo (Meta-Rilldo) | 1,200,000,000 | Scouter Battle Taikan Kamehameha |
| Baby Saga | | | |
| | Baby Vegeta (Super Baby 2) | 1,300,000,000 | Scouter Battle Taikan Kamehameha |
| | Goku (Super Saiyan 4) | 1,500,000,000 | Scouter Battle Taikan Kamehameha |
| | Baby Vegeta (Golden Great Ape) | 1,580,000,000 | Scouter Battle Taikan Kamehameha |
| Super 17 Saga | | | |
| | Nappa | 4,800 | Scouter Battle Taikan Kamehameha |
| | Dodoria | 26,399 | Scouter Battle Taikan Kamehameha |
| | Zarbon | 27,599 | Scouter Battle Taikan Kamehameha |
| | Frieza (final form) | 43,994,141 | Scouter Battle Taikan Kamehameha |
| | Cell (Perfect form) | 1,079,956,055 | Scouter Battle Taikan Kamehameha |
| | Super 17 | 1,500,000,000 | Scouter Battle Taikan Kamehameha |
| Shadow Dragon Saga | | | |
| | Omega Shenron | 1,900,000,000 | Scouter Battle Taikan Kamehameha |
Gallery
External links