This article is about the
real world.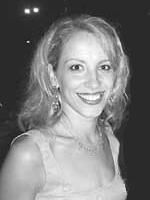 Lalainia Lindbjerg is a Canadian voice actress who previously worked for Ocean Studios in Vancouver, British Columbia, Canada.
She most notably voiced the role of Bulma in Funimation's early dub of the Dragon Ball series, which was made in association with Ocean Studios from 1995 to 1998. Lindbjerg did not reprise her role when Ocean continued their dub without FUNimation in 2000, replaced by Maggie Blue O'Hara.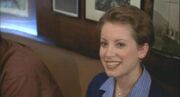 Some of her other roles include Clover in My Little Pony Tales, Venus De Milo in Ninja Turtles: The Next Mutation, Katy in Sabrina the Animated Series, and Yukio Wahimine in Black Lagoon.
Gallery