Directory: Characters → Earthlings → Males → Nekomajin
Kojiro is a character in the Nekomajin series. He was originally a small skinny boy, but later became a short, fat teacher working at Nekoshima School.
Biography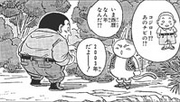 Kojiro is generally underconfident, and he can not control his students. He asks Neko Majin Mike to replace him for one day at school, because he has to sell Nekomatsutake mushrooms to the Dog Dragon Gang.
Kojiro "defeats" the monster Asagiri Zame in one hit, when actually it is the transformed Neko Majin who wanted to make Kojiro take confidence.
Kojiro soon becomes overconfident, only to be quickly reminded of his weak strength when he is beaten by Pochimura of the Dog Dragon Gang. Once again, Neko Majin Mike helps him, this time by taking control of his body and defeating Pochimura.