King Piccolo's Demon Clan is a Demon Clan led by King Piccolo containing his spawns of Mutated Namekians.
Biography
Background
The clan was created by King Piccolo on Earth after he was split apart from the Nameless Namekian. The clan consisted of many spawnlings and have battled with many students of the Mutaito Training Academy including the young Master Roshi and Master Shen. The clan was temporarily eliminated after Master Mutaito sacrificed his life to seal King Piccolo in an Electric Rice Cooker using the Evil Containment Wave.
King Piccolo Saga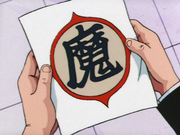 292 years later, the clan was reformed once again when Emperor Pilaf released King Piccolo after finding the cooker. The second wave of King Piccolo's clan was a lot smaller and only consisted of Piano, Tambourine, Cymbal and Drum. The clan had a temporary alliance with the Pilaf Gang using their airship and technology to help locate the Dragon Balls to restore King Piccolo's youth and to hunt down all of earth's top martial artists. Master Roshi learned of the Demon Clan's return after Krillin was killed by Tambourine leaving behind a slip of papar featuring the clan's symbol as a calling card which Roshi recognized. Roshi enlisted the aid of Yamcha, Tien Shinhan, and Chiaotzu to gather the Dragon Balls before Piccolo while a vengeful Goku hunted down his best friend's killer and encountered Yajirobe who would aid Goku during the conflict with the Demon Clan by killing Cymbal and helping Goku retreat to Korin's Tower after he was defeated by King Piccolo. After successfully obtaining his youth, the alliance with the Pilaf gang was severed and the clan took over Earth by annexing King Furry's castle in Central City. The clan officially came to an end when Goku killed King Piccolo and while he intended for his final spawnling Piccolo Jr. to eventually carry out his legacy on Goku, the plan failed as he eventually became friends with Goku and his allies instead.
Members
Main Members
Associated/Unofficial Members
Other Media
Fu-Lum (Dragonball Evolution)
Mai (Dragonball Evolution)
Allies
Other Media
Trivia
Community content is available under
CC-BY-SA
unless otherwise noted.