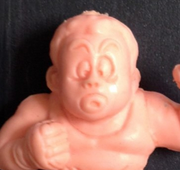 There are currently a total of 2 Kickboxer collectibles that have been released to date. A gallery and the attached information appends to the official releases and genuine specifics in regards to the additional merchandise pertaining to each release.
Bandai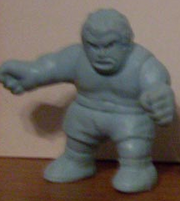 Tenkaichi Budokai Tournament playset
Release date: 1986
This unique playset was released in the 1980s incorporating participants from the World Martial Arts Tournament, who are miniature figurines able to be placed on the playset. Each playset comes with a slew of characters but this one in particular has numerous contestants included. The Kickboxer is seen maintaining a battle stance as his arms are outstretched and his hands are tightly gripped. Pieces included in this same Budokai set are Nam, Krillin, Jackie Chun, Goku, Bulma, Bacterian, a Great Ape Goku, Ranfan, Bruce Lee Impersonator, Fighter 83, Fighter 69, Giran, the tall Bully of Orin Temple, the Kickboxer, and Fighter 40.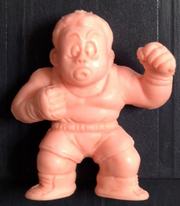 Dragon Ball KeshiGomu
Release date: Unknown
This Keshi piece is a unique variant as it features the Kickboxer with a surprised expression on his face as he has one arm raised and the other kept by his chest as he grips his hands tightly into fists. The figurine maintains a slight crouching posture as he is portrayed with a battle-ready defensive stance. He is portrayed with a baffled expression likely due to Goku's powerful strike. Pieces included in this set are Android 8, General White, Nam, Ninja Murasaki, Commander Red, General Blue, Pirate Robot, Chi-Chi, Bulma, Master Roshi, Master Roshi pumped-up, Emperor Pilaf, Buyon, Major Metallitron, Colonel Silver, Goku (Kamehameha), Goku with Power Pole, Jackie Chun, Great Ape Goku, and the Kickboxer.
Gallery
Community content is available under
CC-BY-SA
unless otherwise noted.