This article is about the
real world.

Kenji Yamamoto (山本健司, Yamamoto Kenji) is a J-POP genre Japanese composer and arranger. He has recorded some songs under the stagename Kenz, and was a board member of the Japanese Composer Arranger Association (JCAA).
Biography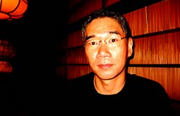 Kenji Yamamoto has been responsible for producing and composing soundtracks, including opening and ending sequence themes for various anime, tokusatsu and video game projects in the 1980s, 1990s and 2000s. In the early 2000s, Kenji Yamamoto joined the group called Healthy Wings, which consists of four composers who worked for Super Sentai shows in the decade: Kousuke Yamashita, Megumi Oohashi, Hiroshi Takaki, and Yamamoto himself.
He has worked on soundtracks of various Dragon Ball video games, and originally worked on the soundtrack for Dragon Ball Kai, the revamped version of Dragon Ball Z.
Kenji Yamamoto composed background music for Dragon Ball Kai until March 9, 2011, when Toei Animation publicly acknowledged that many of Yamamoto's musical works for the series have possibly infringed upon unidentified third-party copyrights. As a result, Toei Animation fired Yamamoto and replaced his compositions with those written by Shunsuke Kikuchi for the original Dragon Ball Z series. His music was used from episode 1 to episode 95 (the latter compositions were re-aired in Japan after the series ended). Furthermore, his work in the video games' re-releases has been replaced as well, starting with the Budokai HD Collection.
Following the revelation of his BGM plagiarism situation, Kenji Yamamoto's activity is unknown as of today.
Known instances of plagiarism
Anime
Video Games
Gallery
External links