This article is about the
real world.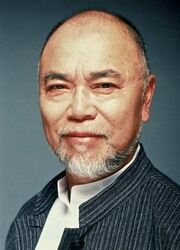 Kenji Utsumi (内海 賢二, formerly 内海 健司; August 26, 1937 - June 13, 2013) was a voice actor and actor from Kitakyūshū, Fukuoka Prefecture. He was affiliated with the self-founded Ken Production.
Biography
Kenji Utsumi was married to fellow voice actress Michiko Nomura. He was best known for his roles in Fist of the North Star (as Raoh), Fist of the North Star 2 (as Kaioh), the Dragon Ball franchise (most notably Shenron), Sally, the Witch (as Sally's Papa), and Hajime no Ippo (as Kamogawa Genji, Ippo's trainer). Kenji Utsumi was also the official dub-over artist for Steve McQueen, Sammy Davis, Jr., Victor Mature, Robert Shaw, and Jack Nicholson.
He voiced Senbei Norimaki in Dr. Slump, Shenron, the World Tournament Announcer (21st, 22nd, and 23rd tournaments), Commander Red, Master Mutaito, and Recoome in the Dragon Ball franchise. Utsumi's final work on Dragon Ball is his reprisal of Shenron for the 2013 film Dragon Ball Z: Battle of Gods.
Kenji Utsumi passed away on June 13, 2013, at the age of 75.