This article is about the
real world.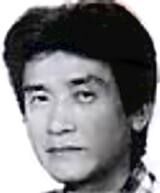 Kazuyuki Sogabe (曽我部 和恭 (formerly 曽我部 和行), Sogabe Kazuyuki; April 16, 1948 - September 17, 2006) was a voice actor born in Chiba Prefecture.
He voiced South Kai in Dragon Ball Z, Android 13 in Dragon Ball Z: Super Android 13!, and Dr. Myuu in Dragon Ball GT.
From 1977 to 1986, he was a member of the Japanese band SLAPSTICK (スラップスティック), on lead guitar, with the other voice actors Toshio Furukawa (rhythm guitar), Yūji Mitsuya (keyboards; replaced by Hirotaka Suzuoki in 1984), Tōru Furuya (drums), Akira Kamiya (bass), and Akio Nojima (Saga in Saint Seiya and KITT in Knight Rider). In 2007, SLAPSTICK got together to pay tribute to former band members Hirotaka Suzuoki and Kazuyuki Sogabe.