This article is about the
real world.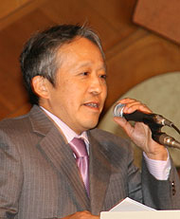 "He is a guy who does not hide anything, but this also means he says whatever he feels like saying. I think we are suited for each other. People who hold things in are hard for me to figure out, so I would not be able to work with someone like that."
— Akira Toriyama about Kazuhiko Torishima, Dragon Ball: Bouken Special, 1987
Kazuhiko Torishima (鳥嶋和彦; born on October 19, 1952, in Ojiya, Niigata) is a Japanese editor and producer. He works for Shueisha, and was Akira Toriyama's first editor.
Biography
"The thing I felt was the biggest crisis for serialization was when he told me that Goku would grow up. Toriyama-sensei threatened that if Goku did not grow up, then he could not continue with serialization. (laughs) It was terrible, breaching the subject like that. "You can have the protagonist grow up, just do not scare me like that," I said."
— Kazuhiko Torishima, Daizenshuu 2, 1995
Torishima attended high school in Ojiya, and graduated from Keio University in 1976. The same year, he joined Shueisha editorial department and was assigned to the Weekly Shōnen Jump. Kazuhiko Torishima recruited Akira Toriyama after the latter made it to the final of the Monthly Young Jump Award 1978 with a one-shot titled Mysterious Rain Jack. He was impressed by Toriyama's particular lettering and onomatopoeia similar to that of the Western comics. Torishima was involved with Toriyama's work for the Dr. Slump and Dragon Ball manga. He is said to be Toriyama's inspiration for the villainous Dr. Mashirito (they have the same name but with the syllables reversed) and King Piccolo. A reference to this is made in the video game Jump Super Stars, in which Dr. Mashirito and Piccolo can fuse to form a character whose special ability is yelling at his opponent.
After he left as Toriyama's editor, Kazuhiko Torishima went on to become head editor of V-Jump in 1993. In 1996, shortly after Dragon Ball ended, he became editor-in-chief of the Weekly Shōnen Jump. Under his leadership, the magazine began coming out with new hits like Yu-Gi-Oh!, One Piece, and Naruto. In 2001, Torishima was the head editor of Weekly Shōnen Jump, Monthly Jump, and V-Jump. In 2004, he joined Shueisha's board of directors. In 2011, he produced the anime adaptation of Naho Ooishi's Dragon Ball: Episode of Bardock.
Torishima also worked on the TV series adaptation of Blue Dragon, a video game with characters designed by Akira Toriyama.
Outside of Toriyama's manga series, Kazuhiko Torishima has also worked on Akikan!, Bakuen Campus Guardress, Black Cat, Bleach, Death Note, Denpa teki na Kanojo, Gantz II, Gintama, Hatsukoi Limited, Kurenai, Naruto, One Piece, Pokemon, Prince of Tennis, and To Love-Ru. Direct parody characters of him appear in Kinnikuman written by the duo Yudetamago, and Bakuman by Tsugumi Ohba.
Gallery
External links