This article is about the
real world.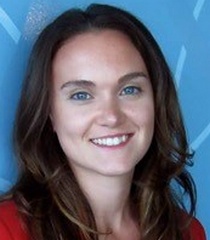 Katie Rowan is an actress and voice actress. She voiced kid Chi-Chi in the Blue Water dub of Dragon Ball.
Some of her other roles include Miho Shinohara / Fancy Lala in Fancy Lala, Yukiko in Hoop Days, Ana Coppola in Strawberry Marshmallow, Mitsuki Koyama in Full Moon o Sagashite, and Lilian in Pretty Cure.
She also voices various Gundam characters, including Princess Mineva Lao Zabi in the Mobile Suit Zeta Gundam anime and related video game spin-offs, and Puru Two in the Dynasty Warriors Gundam video game series.