This article is about the
real world.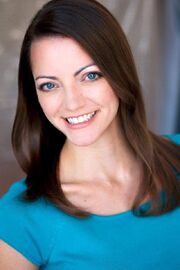 Kara Edwards (born February 17, 1977, in Lubbock, Texas) is an American voice actor who works freelance and for Funimation. 
Biography
Kara Edwards is best known for voicing Videl, Goten, and Gotenks in Dragon Ball Z. She has also voiced Upa and Lime. At Animazement 2013, Kara Edwards said her favorite character in the series is Piccolo. She would have liked to try her hand at voicing him if she had a choice of choosing a character to voice.
Some of her other roles include Celica Yayoi in SoltyRei.