This article is about the
real world.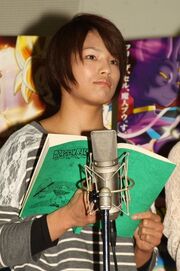 "Now, I am truly grateful to have been cast as a female member of the police motorcycle squad for Dragon Ball Z: Battle of Gods. I am very happy to perform in an anime I have loved since I was a child; it is a treasure I will never forget. However, it is my first such experience, and I am probably even more nervous than with Judo and I am still wondering whether this is a dream, so I am unsure whether I will be able to do it properly. I will be able to get a little closer to Son Goku through this performance, so I will throw myself into the role earnestly, and do my best while also enjoying myself."
— Kaori Matsumoto, Natalie, January 2013
Kaori Matsumoto (松本 薫; born on September 11, 1987, in Ishikawa Prefecture) is a Japanese judoka in the below 57 kg woman division. She is an Olympic gold-medalist in London 2012, and she worked as a voice actress for the 2013 movie Dragon Ball Z: Battle of Gods. She is affiliated with Four Leaf Japan.
Biography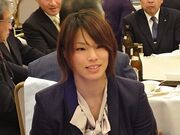 Kaori Matsumoto started judo at the age of 6.[1] Her favorite techniques are Kosoto gari, Sode tsurikomi goshi, and Newaza. She won the gold medal in the 2008 Asian Judo Championships. She broke her right shoulder during high school, her nasal bone and right elbow during college, and her right hand during the 2009 world championship due to an unbalanced diet and finished fifth. After those events, she began to control her eating habits and learned the importance of food education. She then won the International Conventions championship 7 times in a row, from the World Masters of January 2010 to the Grand Slam Tokyo of December 2010.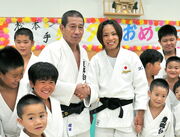 She won the gold medal in the lightweight (57 kg and below) division at the 2010 World Judo Championships. In August 2011, she finished third at the World Championships in Paris. In December 2011, she won the gold medal again at the Grand Slam Tokyo. In 2012, Kaori won gold medals at the Masters in January and at the Düsseldorf Grand Prix in February. The same year, Kaori Matsumoto won gold at the 2012 Summer Olympics over Romanian Corina Căprioriu after the latter was disqualified during the golden score period in the women's -57 kg final, winning Japan's first gold medal of the 2012 games, and their only gold in the Judo event.[2]
"My objective is like Goku's, who enjoys fighting"
— Kaori Matsumoto, V-Jump, April 2013
After 2012 Summer Olympics, she started to do volunteer work for kids in Japan.[3] She voiced a Motorcycle Policewoman modeled after her and who makes a brief appearance in the movie Dragon Ball Z: Battle of Gods.
Gallery
References
External links
Community content is available under
CC-BY-SA
unless otherwise noted.