Beniya Kaede is a human girl that is a main character in Akira Toriyama's Jiya manga, and also makes a cameo in Dragon Ball Heroes: Victory Mission.
Personality
Kaede is a stuck up girl who smokes and drinks a lot. Her servant Kyuumonji Yukio has a crush on her even though she is bossy and mean to him.
Biography
Jiya
Main article: Jiya (manga) Kyuumonji and Kaede's car broke down in the mountains and Jiya appeared, saving them from bandits. While walking with Jiya to a nearby town, they stay a hotel and Kaede decides to go take a Bath in her room while Jiya borrowed Kyuumonji's body to go out and investigate. After bathing, she is in her room wearing a bathrobe, Jiya is back still in Kyummonji's body and asks to see her naked but gets mad and kicks him out. Afterwards, a Mogan appears in her window and attempts to kidnap her, but Jiya manages to rescue her. She goes back to her hotel room and then drops her robe showing herself to Kyuumonji finding out that its the real him and not Jiya making her mad. Later on, during Jiya's fight with Steth who is in Vamp's body, her alcohol is used to revive Jiya's suit while she distracts Steth. Steth left Vamp's body and tried to possess Kyuumonji, but was shot and killed by Kaede.
Kyuumonji and Kaede later drive away in their car, with Jiya in the back seat. Jiya tells them that Steth had come to Earth to find out if it was worth saving, as an asteroid would destroy it in one year. He says that the Galactic King will stop it now that they know it was worth saving.
Other Dragon Ball stories
Dragon Ball Heroes: Victory Mission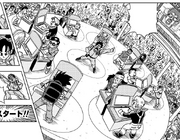 Kaede appears in the 4th chapter playing against Kyuumonji.
Trivia
She is 21 years old during the events of Jiya.
Community content is available under
CC-BY-SA
unless otherwise noted.