This article is about the
real world.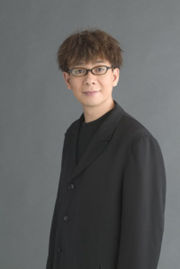 Kōichi Yamadera (山寺 宏一; born on June 17, 1961) is a voice actor, actor, tarento, narrator, master of ceremonies and impressionist from Shiogama, Miyagi Prefecture. His nickname is Yama-chan (山ちゃん).[1]
Overview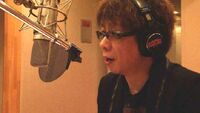 As a radio personality, he is known as Bazooka Yamadera (バズーカ山寺)[1] among other things. Kōichi Yamadera was married to the Japanese voice actress and singer Mika Kanai from 1994 to 2006. In 2012, he married another Japanese voice actress and singer, Rie Tanaka.
Kōichi Yamadera is best known for his roles as Jūbei Kibagami in Ninja Scroll, Akiyama Shun in Yakuza, the genie in Aladdin (Japanese version), Spike Spiegel and Ein in Cowboy Bebop, Togusa in Ghost in the Shell, Ryoji Kaji in Neon Genesis Evangelion, Cheese in Anpanman, Ryōga Hibiki/P-chan and the Jusenkyō guide in Ranma ½.[2] He is also known for voicing Jim Carrey and Eddie Murphy in the Japanese language releases of their respective films.[3]
He voiced Tien Shinhan in Dragon Ball Z episodes 82 and 84, while Tien's original voice actor Hirotaka Suzuoki was hospitalized with an unspecified illness in March 1991. He is also the voice actor for Beerus in the movie Dragon Ball Z: Battle of Gods.
Gallery
References
External links