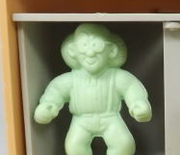 There is currently a total of 1 Jingle Village Chief (also known as "Village Chief", "Mayor", and "Jinguru-Mura no Sonchō") collectible that has been released to date. A gallery and the attached information appends to the official release and genuine specifics in regards to the additional merchandise pertaining to each release.
Epoch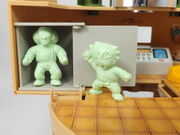 Battle of Muscle Tower DX set
Release date: 1986
This was a genuinely nice play set released by Epoch in 1986, which included a nice repertoire of characters and a recreation of this extremely memorable part of the Dragon Ball saga. Entitled "Battle of Muscle Tower," the entire Red Ribbon Army base known as Muscle Tower is depicted in this DX play set, including miniature collectibles of some of the affiliates and members of the Red Ribbon Army such as Major Metallitron, General White, Sergeant-Major Purple Ninja Murasaki, Buyon, and Android 8. Others also included in this great set are Goku, Suno, the Jingle Village Chief, and Suno. The set has many floors and stages which allows the figurines to be placed on. Also, it can be opened and closed to depict the scenery from the series. When it is closed, the Muscle Tower's outer exterior is also grafted to a near-perfect status. This is a great set for any fan of the Muscle Tower and no collection is complete without this amazing compilation of Red Ribbon Army members all in one set. The Village Chief can be seen standing on the highest level of the tower as he is locked away in General White's chamber waiting to be rescued by Goku. There is a rather interesting color scheme for him on the box art, depicting his figurine with red pants, a striped shirt, and gray hair but his figurine is all-green like the rest of the pieces in the Epoch set.
Gallery
Community content is available under
CC-BY-SA
unless otherwise noted.