This article is about the
real world.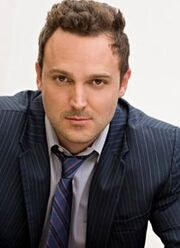 Ernesto Jason Liebrecht (born July 11, 1973, in Austin, Texas) is an American actor and voice actor who works for anime series at Funimation, ADV Films, and Okatron 5000. He has provided voices for a number of English versions of Japanese anime series, films, and video games.
Biography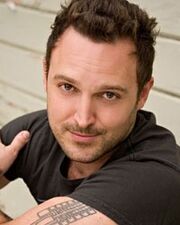 Liebrecht had a leading role in the indie film Home, about which the Philadelphia City Paper said "The performances are uniformly strong, especially from winsome leads Liebrecht and Nicol Zanzarella,"[1] and for which he was nominated for best actor at the Trenton Film Festival.[2] He also had a minor role (as Hey Now Kid) in David Byrne's film True Stories. He made a cameo as one of the "gang of four" in the indie film Waking Life, and played Jerry in the New York City premiere of Karla by Steve Earle.[2] He is a member of the Rude Mechanicals Company and was nominated for The Austin Critics' Table Awards "Outstanding Supporting Actor in a Comedy" for his performance in their production of LIPSTICK TRACES.[3]
Also, his involvement in anime started in ADV Films and FUNimation dubbing anime in English. He voiced Tapion in Dragon Ball Z: Wrath of the Dragon, and Jeice in Dragon Ball Z Kai and Dragon Ball video games from Dragon Ball: Raging Blast 2 onwards, with the exception of Dragon Ball Xenoverse in 2015, where he is voiced again by Christopher Sabat, his original FUNimation voice actor. He also voices Champa in Dragon Ball Xenoverse 2 and Dragon Ball Super.
He voiced the main characters of Black Cat and Tsubasa, Train Heartnet and Syaoran respectively. He also voiced Lavi and the Millennium Earl in D.Gray-Man and Hei in Darker than Black. Some of his other roles include Ban Midou in Get Backers, Kisaragi Saemon in Basilisk and Shinobi: Heart Under Blade, Luck Gandor in Baccano!, Akira Takizawa in the Eden of the East anime and films, Abel in the Street Fighter video games, and Bane, Eclipso, and Hawkman in DC Universe Online.
Gallery
References