This article is about the
real world.
Jason Gray-Stanford (born May 19, 1970) is a Canadian film and television actor, voice actor, and singer. He is best known for playing the hapless Lieutenant Randy Disher in the TV program Monk, where he also performed some songs.
Biography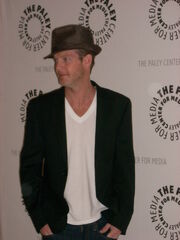 Gray-Stanford earned a BFA degree from the University of British Columbia in theater. He has done extensive dubbing work for various Japanese anime movies and series, and also contributed background vocals to Russell Crowe's 30 Odd Foot of Grunts album Gaslight. He played Deputy Bobby Michan in the 1999 movie Mystery Alaska and appeared in the 2001 movie A Beautiful Mind, both starring Crowe. He also appeared on an episode of Stargate SG-1.
Jason Gray-Stanford worked for Ocean Productions when dubbing Dragon Ball Z, voicing Raditz
Some of his other roles include Ran in Green Legend Ran, Kento Rei Faun in Ronin Warriors, Shinnosuke in Ranma 1/2, Joe Higashi in the Fatal Fury OVAs, Yusaku Godai in Maison Ikkoku (replace by Brad Swaile from episode 37), Donatello in the TV series Ninja Turtles: The Next Mutation, Sherlock Holmes in Sherlock Holmes in the 22nd Century, Mike Ronowski in Lucky Christmas, and the Ogre Slayer in Ogre Slayer. He also appeared in the 2006 Clint Eastwood film, Flags of our Fathers, as Lieutenant Schrier.