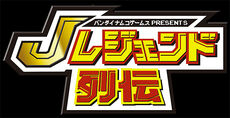 J Legend Retsuden (Jレジェンド列伝, Jē Rejendo Retsuden, lit. "J Legend Biographies") is a game compilation for Nintendo 3DS, released on November 7, 2013.
Overview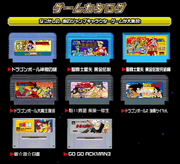 J Legend Retsuden is one of the several projects released as part of the celebration for the 45th anniversary of Weekly Shōnen Jump. The compilation includes Dragon Ball: Shenron no Nazo, Saint Seiya: Gold Legend, Saint Seiya: Gold Legend Finale, Dragon Ball: Daimaō Fukkatsu, Sakigake!! Otokojuku, Dragon Ball Z: Kyōshū! Saiyan, YuYu Hakusho, Go Go Ackman 3, and Dragon Ball Z: Super Butōden 2 on the physical cartridge itself, and Dragon Ball Z II: Gekishin Freeza as a downloadable game.
In "Tenka'ichi Budōkai mode", entering seven play-throughs worth of passwords obtained by beating Kyōshū! Saiyan allows to make the way through Gekishin Freeza with that same power already unleashed.
Gallery
External links