John Michael Tatum (born in McKinney, Texas) is an American voice actor, ADR director, and scriptwriter who works at Funimation/OkraTron 5000. He has provided voices for a number of English language versions of Japanese anime series, films, and video games.
Biography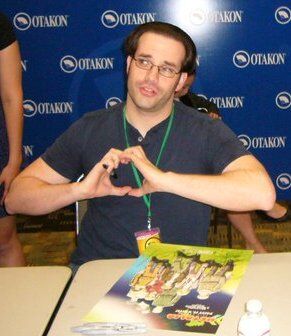 John Michael Tatum has a younger brother named Dakota, he has been in a long-term relationship with his partner Joshua since 2003, and he owns a pet cat named Mr. Angus. In 2005, Tatum was discovered by FUNimation warhorse and visionary ADR director Christopher Bevins, who casted him as Rikichi in Samurai 7. Tatum's inexplicable luck has held long enough to see his flag hoisted on a slew of dream roles.

He voiced Spice in Dragon Ball Z and Zarbon, Mr. Musuka, Papoi, Upa, and Bora in Dragon Ball Z Kai and Mira in the Xenoverse series and Tupper and Za Priccio in Dragon Ball Super and also wrote dub scripts for Dragon Ball Z Kai. Some of his other roles include Simon and Acnologia in Fairy Tail, Scar in Fullmetal Alchemist: Brotherhood, Enel and Dalton in the One Piece franchise, Kyoya Ohtori in Ouran High School Host Club, Age in Heroic Age, Ryosuke Takahashi in Initial D, Tenten in Ohedo Rocket, Komui Lee in D.Gray-Man, Lawrence in Spice and Wolf, France in Hetalia: Axis Powers, Giriko in Soul Eater, Sebastian in the Black Butler franchise, Ryoji Kaji in the Evangelion films, and Damon in Pokemon the Movie: White - Victini and Zekrom, Dororo in Sgt. Frog, Isaac Dinan in Baccano, and Kazuomi Hirasawa in the Eden of the East anime series and films. He was also the ADR director for Romeo x Juliet, Jyu-oh-sei, and Ouran High School Host Club. He also wrote dub scripts for Ouran High School Host Club and Heroic Age.

In early 2010, Tatum began hosting That Anime Show with friend and co-worker Terri Doty and ADR Engineer Stephen Hoff. Numerous times, he has expressed his deep love for anime series, Doctor Who, Vincent Price, and William Shakespeare.
Gallery