This article is about the
real world.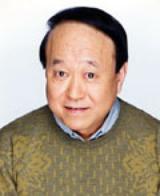 Isamu Tanonaka (田の中 勇; July 19, 1932 - January 13, 2010) was a Japanese seiyū from Taitō, Tokyo. During his life he has been attached to Gekidan Tōgei, then to Theatre Echo, and he was attached to Aoni Production at the time of his death.
Biography
He was best known for his roles in Medama Oyaji in GeGeGe no Kitarō, the first voice of Honkan-sanin Tensai Bakabon, Sindbook in Mahō no Princess Minky Momo, Youaltepuztli in Akuma-kun, and Igor in the Shin Megami Tensei: Persona series.
Isamu Tanonaka voiced Gala and Tori-Bot in Dr. Slump and Dragon Ball, Dr. Lychee in Dragon Ball: Plan to Eradicate the Saiyans, Raiti and Bibidi in Dragon Ball Z, and Old Kai in Dragon Ball Z: Budokai 3.
His final performance was in Marie & Gali, as the voice of Leonardo da Vinci. On January 13, 2010, he suffered a bout of myocardial infarction in his home in Setagaya, Tokyo and was found dead by family members. He was 77 years old at the time of his death. Memorial services were held in Tokyo Memolead Hall on January 19, 2010. He is survived by his older brother Hiroshi.
Community content is available under
CC-BY-SA
unless otherwise noted.