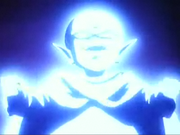 Immortality (不死 Fushi), also called Eternal Life (永遠の命 Eien no Inochi), is the concept of living in physical or spiritual form for an infinite length of time without dying. A subset of this is Eternal Youth (永遠の若さ Eien no Wakasa), which allows for exemption from natural death such as from old age or disease, as well as halting age altogether. In the manga, those who are physically immortal are also immune to the effects of Hakai. There are several outside methods in the series which can be sought after in order to become immortal, the most common being to make such a wish to the Eternal Dragons, Shenron or Porunga, using the seven Dragon Balls.
Methods of gaining immortality
Collecting the seven Dragon Balls (or, alternatively, the Namekian Dragon Balls, Super Dragon Balls, or Black Star Dragon Balls) and having a wish for immortality granted by an Eternal Dragon.
Having Master Roshi's pet, the Immortal Phoenix, bestow immortality. This method is rendered unavailable some time before the beginning of Dragon Ball, due to the irony that the Immortal Phoenix died from being fed "tainted bird seed".[1]
The grueling process of converting a human into a cyborg entails giving them freedom from a death by natural causes.[2]
Wishing for Eternal Youth, which halts aging and thus leaves them unable to die of natural causes. However, they can still be killed during battle, with suicide, and/or being caught in a lethal event.
Eating Paradise Herb obtained from the Forest of Terror allows the consumer to gain many additional years of life. Roshi uses this method to retain his eternal life.
Draining the lifeforce of a planet and its inhabitants to increase a person's lifespan.
Dying and somehow finding a way to return to the land of the living as a Ghost, such as being hired by Fortuneteller Baba like the Ghost Usher or escaping from Hell like Dr. Mashirito.
Characters who are immortal
Eternal Life
Partial Immortality
Full Immortality
Garlic Jr.: In the film Dragon Ball Z: Dead Zone, Garlic Jr. is successful in his campaign to wish for eternal life from Shenron. As such, he is abnormally defeated not by being slain but by being victimized by his own ploy, the Dead Zone, wherein he is trapped for several years until his escape in the filler Garlic Jr. Saga of Dragon Ball Z. It should be noted that, until Future Zamasu's debut in Dragon Ball Super, Garlic Jr. was the only character in the series to have complete and unhindered immortality. Whereas characters such as Master Roshi and the Androids are free from death by natural causes but are still susceptible to such acts as murder or suicide, Garlic Jr. seems to be literally incapable of dying.
Future Zamasu: Future Zamasu wished for immortality using the Super Dragon Balls. Like Garlic Jr., he seems truly incapable of dying.

Fused Zamasu: In the manga, as the fusion of Future Zamasu and his alternate self Goku Black, Fused Zamasu inherited this immortality. In the Dragon Ball Heroes manga Fused Zamasu implies that his immortality allowed him to survive Future Zeno's Erase.

Goku Black: In the manga, as a result of keeping Future Zamasu's cells from the fusion due to being the same person, Goku Black gained Fused Zamasu's immortality after the Potara Fusion ran out.
Infinite Zamasu: The surviving will/mutated form of Fused Zamasu, left over from the destruction of Fused Zamasu's body, erased by Future Zeno.
Possibly
Mercenary Tao: It is not revealed how, but he may have gained immortality in some way, as he lived to be over 300 years old and looks to be in his prime. However, he and his brother Shen got mixed up in something and died as a result of the event.[3]
Fortuneteller Baba: It is not revealed how, but she may have gained immortality in some way, as she is over 500 years old.
Master Shen: It is not revealed how, but he may have gained immortality in some way, as he lived to be as old as Roshi. However, he and his brother Tao got mixed up in something and died as a result of the event.
Darkness: The mysterious entity which guards the Ultra Divine Water in the Cave of Darkness. Darkness tells Goku that the two of them could live together forever while fooling him with illusions, suggesting that he is immortal.
Mr. Popo: Mr. Popo is the eternal caretaker and gardener of Kami's Lookout, having long outlived all of Earth's Guardians, seemingly being ageless and unable to die of natural causes like aging or disease; however, he can die of unnatural causes, like Buu's magic Transfiguration Beam, or complete disintegration.
Angels
During the Galactic Patrol Prisoner Saga, it is revealed that Angels can only be killed if they violate angel law which results in their eradication indicating they are immortal as long as they do not violate said laws. Merus almost suffered eradication when he planned to confront Moro after training with Goku, but his brother Whis intervened forcing him to leave the Galactic Patrol which spared him from being eradicated.
Characters who have pursued immortality
Drawbacks
Even if one is immortal they are still susceptible to being trapped in a place where they cannot escape, be it a different time era, dimension, etc. They are also susceptible when fusing with a mortal being due to merging in a cellular level with said being. This could result in major problems, varying in each person, due to merging their cells with mortal cells. This would either overwrite the fused body's DNA, or treat the merged cell as a one single cell, both resulting in catastrophic mutations. In Dragon Ball Super, it appears that they're also susceptible to being erased from existence by Zeno, while in Dragon Ball Heroes this appears to be untrue, as Fused Zamasu is implied to have regenerated from Future Zeno erasing him. It is also possible the Angels may be capable to do the same as well. In the case of gaining eternal youth, they also are still susceptible to the unnatural taking of life such as murder or suicide. There are examples of these drawbacks such as:
It should also be noted that immortality from death can make a person extremely overconfident due to no longer having to fear death and believe that they can overcome any mortal enemy as they cannot be killed, even if said enemy is stronger than them, as shown by both Garlic Jr. and Future Zamasu. In the case with Garlic Jr. his overconfidence caused him to use the Dead Zone twice against his enemies in an attempt to defeat them only for him to be defeated by Gohan both times and sealed in the very Dead Zone he created. While Future Zamasu was more cautious with dealing with potential threats to his and Goku Black's Zero Mortals Plan even with his immortality, he was still overconfident thanks to his immortality at least until he was almost sealed away by the Evil Containment Wave, which caused him to resort to Potara Fusion with Goku Black to defeat his enemies, however in the anime this would prove to be their undoing as the fusion was unstable due to Goku Black being mortal, allowing Fused Zamasu's body to be killed by Future Trunks and his immortal essence was erased by Future Zeno.
Frieza himself would later decide against seeking eternal life following his second revival as his time in hell made him realize the folly of living forever and decided to focus on fulfilling his desire to be taller in his True and Golden forms due to being sensitive about his height. Others such as Piccolo and Kami have also noted that seeking immortality is a unwise as the inability to die can be a curse instead of a blessing as life itself could become their only living Hell. Goku also notes acquiring it is pointless if the person who acquires it lacks strength as they would be unable to defeat a stronger opponent who could easily defeat them (afterwards they could seal, imprison, or incapacitate them in some form).
Trivia
References